About Me
Licensed Professional Counselor – Supervisor
Certified Clinical Trauma Professional – II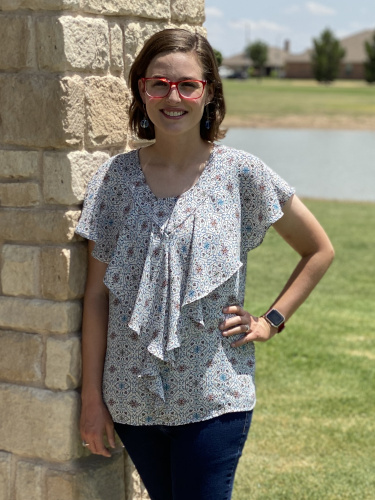 Hello! I'm Kelsey Brewer
Licensed Professional Counselor – Supervisor
I received my Bachelor of Arts in Psychology from Texas Tech University in 2013 and my Master of Science in Clinical Psychology in 2015. As a Licensed Professional Counselor – Supervisor (LPC-S), I am trained to help anyone with a wide variety of psychological or mental health struggles. I specialize in trauma therapy and am certified to provide EMDR therapy.
Before moving into private practice, I worked at Voice of Hope dba Lubbock Rape Crisis Center where I helped those who have experienced and are affected by sexual violence. Prior, I worked at Allegiance Behavioral Health, which is a company that works with the elderly, to counsel them through grief, life transitions, family struggles, and many other things. I have worked in inpatient treatment facilities, both for psychological issues and for substance use treatment, and at Family Counseling Services, which provides counseling services to those who are at a financial disadvantage. I have also worked at Lubbock Christian University and counselled college students and faculty. It has been a privilege to walk with these individuals through their struggles, to see them grow, and watch them thrive.
Personally, I have been married to my husband, Chris, since 2015. We met at Texas Tech University in the Goin' Band from Raiderland and got married right after I graduated with my Masters. I am not from Lubbock, but I have come to call it home. I love to read science fiction and mystery novels, go to comic-cons, play my clarinet for alumni band events, and participate in other outdoor activities. If you want to know anything else, just ask!
My Approach & Values
In a therapy session, my goal is to create a safe, calm, and comfortable space for you to express yourself. Therapy is built on a foundation of trust between me (as your therapist) and you.
Over the course of my career, I have worked in a variety of places. This has afforded me the opportunity to work with a variety of people and psychological issues. Here are just a few of the areas I specialize in therapy:
My Experience
Trauma / PTSD
Depression
Anxiety
Self-Esteem / Confidence Issues
Anger Management
Career Counseling
Developing Coping Skills
Domestic Violence / Abuse
Grief
Life Transitions
Relationships
Self-Harm
Suicidal Ideation
Crisis Intervention
Women's Issues
Life Skills
Substance Use
Family Problems
Abuse / Neglect (Current and Past)
Contact Me
Feel free to ask any questions. For emergencies call 911 or visit your nearest hospital.
6402 98th St, Suite 200 | Lubbock, TX | 79424